Taxi Transfer Belgrade Skopje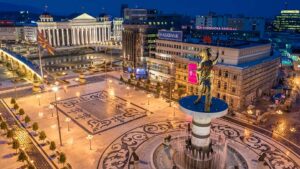 Taxi Transfer Belgrade Skopje offering to you private taxi transfer to Skopje - the capital of Macedonia where you will be welcomed by a recognizable southern spirit, hospitality, people who love life and celebrate it every day. How many can say that they are similar to us (yet it is a city only 400 km from Belgrade), they are so different, so the trip to Makdonia whit taxi transfer Belgrade Skopje is a new experience. Maybe even more than you expect. What we often like to point out as our virtues, to be happy, to eat here best, to be able to spend and welcome everyone, you will recognize in Macedonia. People are accessible, open and direct, so that you feel like you are among yours. Take the trip to Skopje for sightseeing of their sights, for some you may not have heard, and so are close to us. The tumultuous history of these territories (of which we ourselves are witnesses), and in the area of ​​Skopje and Macedonia, has left many monuments, fortresses, famous figures and stories on which historical data will be based which you will hear while visiting the most attractive sites. Macedonia is not big, and you can use the road to Skopje to make a tour of your city not only this city that has something to offer and which is otherwise perfectly connected with all regional centers, but also nearby sights.
To visit our southern neighbor is always the right time. The vicinity of Skopje and the journey you can afford yourself are just some of the reasons why you should go with X-LIMO Taxi Transfer Belgrade Skopje
Taxi Transfer Belgrade Skopje prices:
Taxi Transfer Belgrade Skopje, X-LIMO Belgrade offering  transparent pricing policy and best rate guarantee. The price quoted is the price you pay, NO hidden costs!Pay simply in cash to your chauffeur.
1-3 pax : 210 Euro
3-8 Pax: 340 Euro